Researchers from the National University of Singapore have turned tofu whey into an alcoholic beverage in what is believed to be a world first. Named...
Finnish food giant Fazer claims to be the first to launch an insect bread in grocery stores as the firm capitalises on the novelty...
A new method to identify unwanted animal products in minced beef has been developed by researchers at the University of British Columbia. Food science students...
Ultraviolet light can seriously undermine your product's quality and consistency. Product exposure to sunlight and artificial light sources at any point in its life cycle...
The beverage industry could risk losing $300 billion with the introduction of plain packaging as seen on cigarette packs. Following the introduction of plain packaging...
American food company the Hain Celestial Group has swooped for the British natural sweetener brand Clarks UK for an undisclosed amount. Based in Newport, South...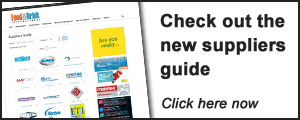 Biocatalysts will be exhibiting at Food Ingredients Europe this year, where it will launch an exciting new enzyme panel for the food industry. The panel...
New legislation means UK food businesses will now be required to put in place practical steps to manage acrylamide within their food safety management...