Triskelion has developed a validated LC-MS method for the species-specific determination of gelatin. The TrustGel method – recently published in Food Chemistry – reliably detects...
Popcorn has been hailed as Britain's fastest-growing grocery product (ebbed on its health halo) which could lead to greater product development and category growth. This...
Orkla Food Ingredients is broadening its product range in its native Norway by purchasing Danish Crown subsidiary Arne B. Corneliussen. Orkla predominantly provides bakery ingredients...
Kite Packaging has extended its offering and has launched black lay flat tubing via its leading ecommerce website. On its website, the employee-owned company provide...
Tetra Pak has offered a way for food makers to produce dairy and juice drinks using existing processes and then market them as ice...
'Mindful choices' has been tipped as a "key food driver for 2018" as the relationship between consumer and foodstuffs continue to evolve. Last month, Mintel...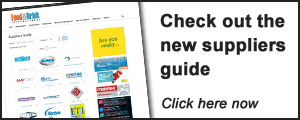 Robots, the Internet of Things (IoT), machine learning and artificial intelligence are set to shape the future of the food industry and shape the...
The West Bromwich plant of poultry giant 2 Sisters Food Group has resumed production after hygiene allegations halted operations. An investigation spearheaded by The Guardian...