As part of a new agreement with UK life sciences business OptiBiotix Health, Tata Chemicals will manufacture a sugar for use in food products. The...
GURU has launched Canada's first energy drink sweetened with monk fruit. Monk fruit draws its name from the Buddhist monks who once cultivated the fruit....
Lipofoods, SLU, launches NEWCAFF™ microcapsules, a natural, slow-release caffeine formulation for athletes and others living an active lifestyle. The company will introduce NEWCAFF microcapsules...
Italian restaurant chain Zizzi has unveiled an extensive suite of new packaging, enhancing its popular takeaway experience for customers across the UK. Available online via...
Kingsmoor Packaging has worked closely with food manufacturer Greencore to deliver four premium quality food grade packaging solutions for eleven of the 'grab &...
Müller is to manufacture and market a new generation of branded and private label yoghurt and dessert products through a £100 million investment. This move...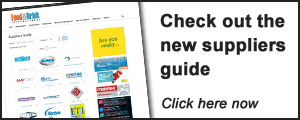 Investing in machinery and equipment should be on top of every company's priority list if it aims to boost its productivity and production, and...
Retailers and manufacturers are calling on food and drink suppliers to help identify sugar alternatives in a bid to improve public health. The British Retail...