Popcorn has been hailed as Britain's fastest-growing grocery product (ebbed on its health halo) which could lead to greater product development and category growth. This...
Chocolate manufacturer Barry Callebaut has revealed a fourth type of chocolate some 80 years after the introduction of white chocolate. Ruby chocolate – so named...
German spice producer Fuchs Group has acquired UK herb and spice blender Bart Ingredients for an undisclosed sum. Under previous owners – private equity firm...
The Consumer Goods Forum (CGF) has approved a Call to Action to standardise food date labels worldwide by 2020. The Call to Action says retailers...
Italian restaurant chain Zizzi has unveiled an extensive suite of new packaging, enhancing its popular takeaway experience for customers across the UK. Available online via...
Kellogg Company has expanded its presence in the clean-label market with the acquisition of protein bar maker Chicago Bar Company for $600 million. The company's...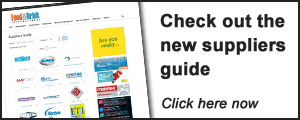 Fi Europe & Ni 2017 is the must-attend event on the calendar of virtually everybody who works in the food, beverage and ingredients industry. With...
The industrial workplace is ever-changing, and as it changes the health and safety demands of the workplace change with it. Industrial safety expert McCue utilises...