Researchers in Finland have produced a batch of single-cell protein using electricity and carbon dioxide. The researchers – from Lappeenranta University of Technology (LUT) and...
Arla Foods Ingredients have introduced a new whey protein solution that stays soft for at least a year, ending one of the biggest consumer...
Ingredion and Lyckeby, the Swedish manufacturer of potato-based starch and fibre products, have formed a new strategic alliance. Ingredion will exclusively distribute various potato starch...
Kite Packaging has recently announced a new wave of product launches, specifically targeting the warehouse and logistics markets. Polythene shrink film is the ideal solution...
As a new addition to their tulip muffin wrap line-up, i2r Packaging Solutions has released a new black 'tuxedo' range, providing customers with a...
Tŷ Nant Natural Mineral Water has announced a new sponsorship deal with Italian MotoGP World Championship rider, Danilo Petrucci for 2017. With the 2017 season...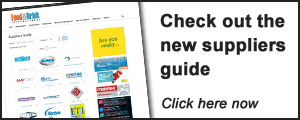 The time-pressed nation is busy, fanning a growing trend for on-the-go food and drink and meal solutions. With premium quality a key part of what...
The US Food and Drug Administration has refused to declare Impossible Foods' flagship patty as safe to eat. This despite the meat-free "burger that bleeds"...