Israeli food tech start-up, SuperMeat, is driving its clean meat revolution forward after raising $3 million in seeding funding. Further to this funding, the biotech...
Pulsin is boosting its healthy product range with the addition of two new naturally flavoured protein powders in January. The British snack brand said the...
As we fight back against the rising tide of food waste, a new study has found that consumers would be open to eating a...
British researchers have been trailing a new approach to help the public easily identify which wholegrain foods are healthiest. Currently there is no national or...
Britain is mulling a potential "latte levy" after the Environmental Audit Committee proposed a 25p tax on disposable coffee cups. The Committee also called on...
Nestlé has agreed to sell its US confectionery arm, which includes Butterfinger, Crunch and BabyRuth, to Ferrero for $2.8 billion. Nestlé's U.S. confectionery business represents...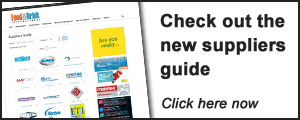 Foodex 2018, the UK's leading trade event for the food and drink processing, packaging and logistics industries, returns to the NEC Birmingham in April...
A new campaign launched by Public Health England aims to help parents taken control of their children's snacking and curb sugar intake. The inaugural Change4Life...
Html code here! Replace this with any non empty text and that's it.